Skiing in Ski Amadé
Skiing & Snowboarding in Radstadt & Salzburger Sportworld
A holiday in Radstadt puts you in the heart of Salzburger Sportworld and the largest ski region in Austria, Ski amadé. That means you are also near the higher resorts of Obertauern and the Dachstein glacier, guaranteeing a long season of skiing and the World Cup resorts of Schladming and Zauchensee for real fun on the pistes. As a bonus, you also have the magnificent backdrop of the Radstadt Tauern mountains and cross-country skiing/winter walking through the scenic valley on your doorstep. The ski resorts have something for everyone, beginners-experts, gentle skiing, carving, snowboarding, touring and freeriding with a great range of pistes to suit every taste, making your winter holiday in Salzburgerland unforgettable. Add to that the bonuses offered by the 3 star hotel Stegerbräu.
Radstadt-Altenmarkt ski resort in Salzburger Sportworld, Ski Amadé & its neighbouring resorts.
Explore the 5 regions that make up Ski amadé, the largest ski cooperative in Austria, especially the ski paradise of Radstadt. Check out the wide range of ski resorts that are easy to access within an hour's drive of Radstadt.
Accessing ski resorts from the Stegerbräu Hotel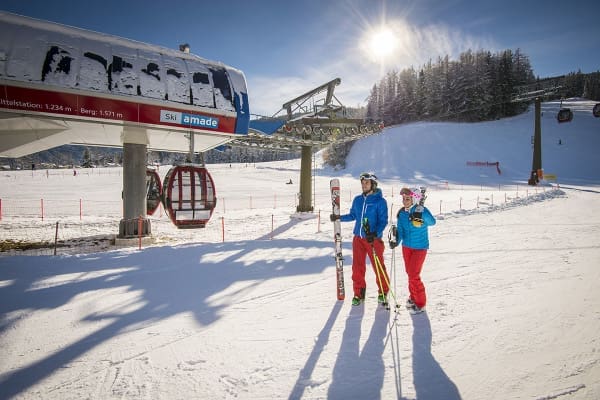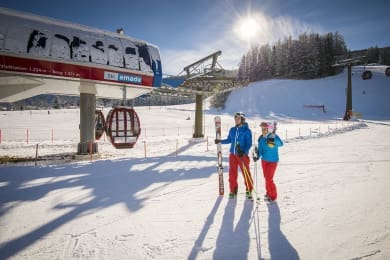 The free ski bus shuttles guests, from approx. mid December,  on a regular basis throughout the ski day to the Radstadt-Altenmarkt. The bus stop is just 80 m from the Hotel. Other resorts can be accessed from the Post Office bus stop (500 m from the Hotel).
Ski bus from the marketplace:
Radstadt – Altenmarkt (approx. 2,7 km)
Reiteralm (approx. 12 km)
Fageralm (approx. 7,7 km)
Ski bus from the Post Office:
Zauchensee (approx. 14 km)
Flachau – Flachauwinkl (approx. 12 km)
Obertauern (approx. 21 km)
Obviously, you can access all of the resorts in Ski amadé by car, with free car parking at each base station.
Ski rental and sports shops are located directly at the  base stations..Ski equipment can be stored in the Stegerbräu's ski cellar with its heated boot racks. For information and booking ski & snowboard courses, please contact the ski schools direct. Our local ones are GreenOrange and Radstadt Ski School. We can also offer advice on ski passes, ski schools and ski rental.