Panorama-Wellness-Area
Finnish Sauna, Steambath & Infrared cabin
Treat body and soul to pleasurable moments of relaxation. Particularly after a day's sporting activity it's a lovely feeling to step into the gentle warmth of the steam room or sweating in the Finnish sauna. Afterwards boost your circulation by taking an ice-cold shower. This also strengthens the immune system.
Relax finally on the loungers and enjoy the fantastic view through the panorama-window at the landscape and mountains around, as the Radstädter Tauern group or our ski-mountain Königslehen.
Opening hours in our Wellness-Area
Our small but fine wellness-area, which is free to use, is daily at your disposal.
Bathrobes for adults are provided for free – just pick them up at the reception desk
Sauna towels are available for you in the wellness area
Please bring your own bathing slippers if desired.
Massage offers at Stegerbräu
Our masseuse Elfi comes to our hotel every Monday and Wednesday from 4 to 7pm and offers you relaxing and soothing massages.
We ask for registration at the reception until 11am of the desired day at the latest.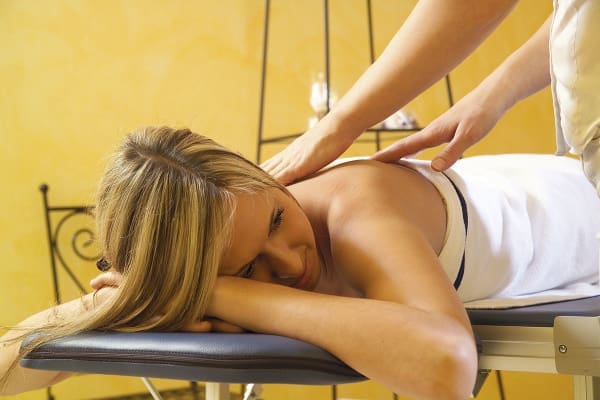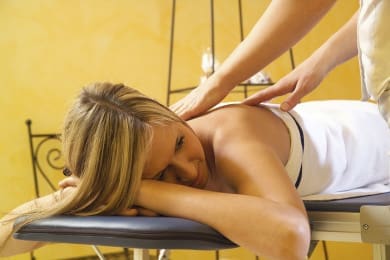 Back, arms, legs
Pure relaxation with essential oils. € 68,00
Here, your back is kneaded smoothly and small tensions are relieved in a short time. € 38,00
The whole body is reflected in the feet. By massaging these special points your body gets back into the swing of things.
€ 38,00
Our masseuse will tailor this treatment to suit you individually.
€ 68,00
"Moving" cupping with cupping glasses works on the connective tissue, loosens encapsulations, the musculature is supplied wieth blood. For adults only. € 38,00
Lymph flow and purification are stimulated, swellings are counteracted, toxins are better eliminated. € 38,00