Biking & Mountainbiking
Discover the beauty of nature around Radstadt from your saddle!
The carefully constructed biking and mountainbike trails in and around Radstadt offer cyclists plenty of tours to choose from, in various difficulty grades. Discover the charming landscape between the Dachstein and Radstadt Tauern mountains on a bike when you stay at the 3 star hotel Stegerbräu during your summer holidays.
With our partner TauernBikeTours you get a competent guide right from the door. Ride with a certified bike guide, across our beautiful alpine landscape. There are several tours on offer and are designed to fit the group. As part of the weekly summer programme (approx. mid May to mid October) Stegerbräu guests can enjoy 3 weekly tours for free.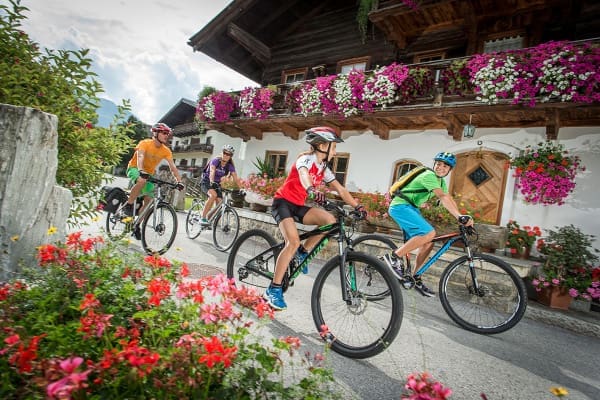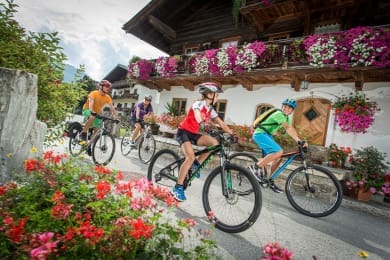 Every Monday

Start: 4.00 pm, Duration: 1,5 – 2 hrs
easy tour

kids from 8y. (accompagnied by 1 parent)
with tour bikes, mountain bikes, e-bikes
This tour is for cyclists of all ages (children from 8 years, accompagnied by a parent) with touring bikes, mountain bikes or e-bikes.  You are on the way with an experienced guide of "TauernBikeTours", a nice round of our neighboring towns and you will learn interesting details about our holiday region. The guide shows you on the map cycle paths and mountain bike trails which he considers for you as suitable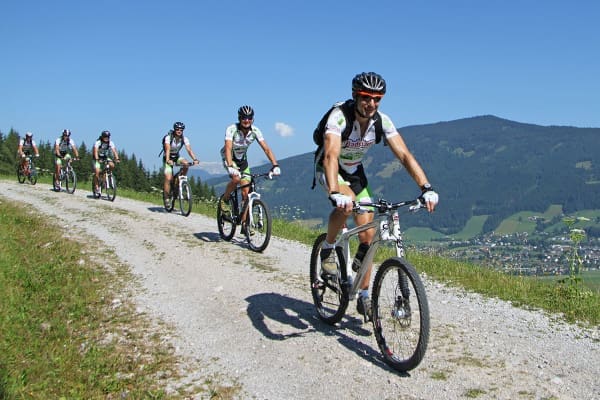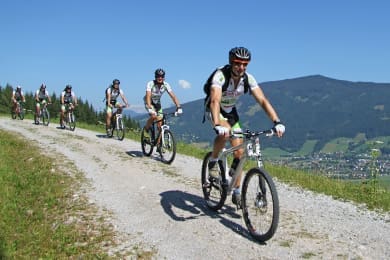 Every Wednesday:
Start: 9.00 am,  Duration:  3-4 hrs
for trained bikers

with mountain bikes 
Elevation difference: 400 to 800 meters

This tour requires good physical condition. After a short warm-up the tour leads up the mountains to an alpine hut in the surroundings of Radstädter Tauern. After a short rest you continue uphill.  Your effors will be rewarded with a wonderful panoramic view, before gliding downhill and on the cycle path back to the starting point.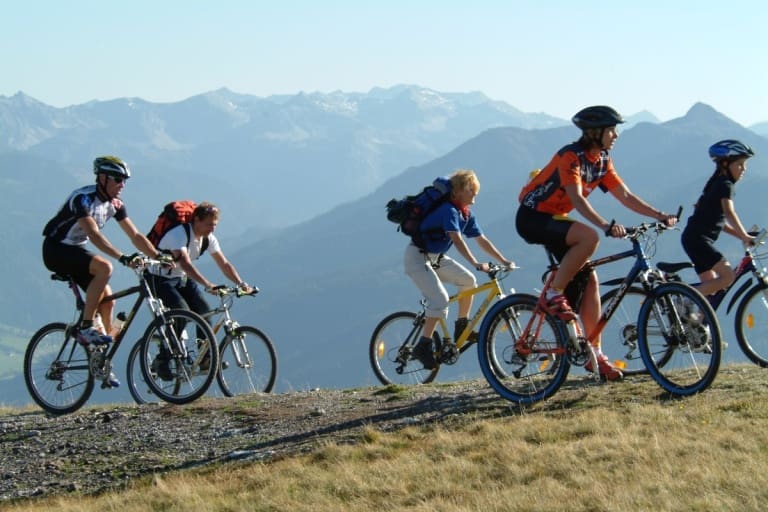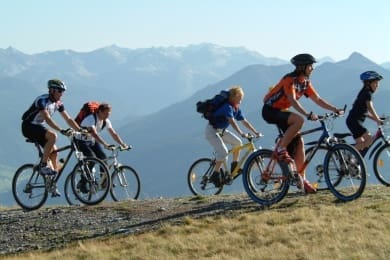 Every Friday

for MTB beginners and pro

moderately difficult

Start: 2.00 pm, Duration:  3-4 hrs
Elevation difference:  approx. 400 meters

This tour is not leading overly high up but over a longer distance and is suitable for mountain bike beginners as well as for skilled bikers.  There are differents paths available and your guide will choose the right one for the group. A stop for refreshment is planned as well.
The bike-tours suits for any taste – regardless if you are a comfortable cyclist or if you are looking for a more challenging mountain bike tour. The inscription for the bicycle-tours are to make directly at the hotel reception. If you don't bring your own bike you can rent a bike of your choice  by Intersport Rappl and you will get a 30% reduction on bike rental for these tours. Please bring a filled drink bottle and if possible, your own bicycle helmet with you.
Note: the helmet usage is compulsory for all tours with the guides from TauernBikeTours.
Getting from A to B comfortably with an e-bike, exploring the countryside or discovering alms (summer farms) and mo mountain restaurants with an e-mountain bike, requires less effort due the electric push that feels like a tailwind!
You really must try it – you will love this way of cycling!
If you find that many hiking destinations are too strenuous to reach on fott, then try with the e-mountain bike as it allows access to the most beautiful places without you having to be a top athlete  and it can handle mountain conditions up to the best views.
Everyone can choose a route to suit them: leisurely pedalling along bike paths or heading uphill on forest roads and moutain bike trails. There is something for everyone in Radstadt and Salzburg Sportworld.
In order to make it easier for you to try:
there are 2 rental shops in Radstadt.  Our partner from Intersport Rappl  offer you a 10% discount on the bike rental fee and even 30% when taking part on a guided tour.
Every Monday (from about mid May) you can take part at the  "get-to-know" biking-tour – discover Radstadt and its neighbour villages Altenmarkt and Flachau with this easy tour. The guide can further explain how to handle the bike and give you tips for further bike-tours.
In addition, every Wednesday there is a demanding MTB-Alm-Tour and every Friday an easy MTB-Tour. The participation is free of charge for you (excluded bike rental).
A variety of tours with something to suit every ability and fitness level.
If you would like to preplan your bike or mountainbike tours at home, then visit the Tour portal with map overviews, height profiles and descriptive text. You can also download the GPS-Track and printable maps.
What the region offers for bikers
A great range of tours with differing route profiles from easy valley rides to something more challenging (between 700 and 2,000m above sea level)
Gentle tours with the family along the Enns River cycle trail to the neighbouring towns or towards Untertauern to the deer park
Challenging tours right from Radstadt: Eibenberg Circuit, Forstauwinkl Route, Fageralm Route or to Bürgerberg & Rossbrand
Bike rental in Radstadt at Intersport Rappl
E-Bike-recharging stations in Radstadt marketplace & many other sites throughout the region
Ideal starting/resting point for long distance rides: Enns River cycle trail (240 km), Tauern cycle trail (307 km), Alp Adria trail (410 km)
Arrive by train, to the Radstadt intercity station
Your advantages at Stegerbräu
From approx.3rd week of May to mid October: 3 x per week- free guided bike and mountainbike tours with our partner from TauernBike Tours
Bikes and sports equipment can be stored in the lockable bike room
Bike wash
Free maps for tours in Salzburger Sportworld
With your stay at Stegerbräu you can additionally to the breakfast, create your own packed lunch from the buffet
Dine with us for either lunch or dinner in our cosy restaurants. Choose yourself if you wish to eat à la arte (prices on the menu) or you can opt for the fixed price 3-course "My-Menu", including 1 drink with your meal
Early Arrival – late departure: possibility to store luggage, to change clothes and even to take a shower before driving home
There are about 480 km of signposted bike and mountainbike trails (23 mountainbike routes) that start in the Salzburger Sportworld towns: Radstadt, Altenmarkt-Zauchensee, Flachau, Wagrain-Kleinarl, St. Johann-Alpendorf, Eben and Filzmoos.
Salzburger Sportworld was awarded the "approved bike area 2015" by "Mountain Bike Holidays".
Every year in May, the  cassic race for amateur bikers takes place in our region: the  Amadé-Roadbike Marathon in Radstadt