Dining in Radstadt – Stegerbräu-Menu
Regional, saesonal delicacies, meat & fish specialities and much more.
Our chef and his team conjure up dishes from classic Austrian cuisine to local delicacies and seasonal specialities. Thus, well-tried dishes end up on the plate, as well as vegetarian, vegan or regional dishes. Changing daily dishes or special recommendations of the chef, adapted to the season, round off the culinary offer. Let yourself be pampered in the beautiful locations of the Restaurant Stegerbräu in Radstadt. Here is something for every taste, from meat lovers to vegetarians. The dishes from the menu, burgers and chef's recommendations are available on opening days from 11am to 2pm and 5pm to 9pm. If you're hungry in between, you can choose from the afternoon menu. Ask as well for our daily special (not shown in the card).
Enjoy our Bräu-Cuisine and choose from the Stegerbräu menu from 11 am. to 2 pm. and 5 pm. to 9 pm. There are also seasonal delicacies recommended by the chef and burger fans will also get their money's worth.  From 02 pm to 05 pm we offer dishes from the afternoon card.
Between 2.00 pm and 5.00 pm we offer a smaller afternoon menu. Closing time is at  12.00 pm.
We attach great importance to regional products and source many foods and ingredients from local partners as well as from the Genuss-Region Pongau. The delicacies are refined with herbs, some of which come from our own herb garden. It is not only important to us, that products from the region are used, flavour enhancers are also largely avoided.
The culinary combinations from Salzburg and Styria are particularly popular, such as the Cordon Bleu with Styrian smoked pork and Lungau mountain cheese. The Stegerbräu classic includes the fried chicken, served with potatoe leaf salad and pumpkin seed- oil dressing. The menu also includes tasty salads, sweets for dessert and, of course, special dishes for the little ones, and depending on the season, the menu is expanded with fish, steak or burger dishes.
DINING AT HOME – TAKE AWAY
Would you like to enjoy our Stegerbräu cuisine at home? You`re welcome! Just call us  and order the dishes as take-away. For more information on our take away offer, simply click on the link below or on the take away button.
BEER and WINE ENJOYMENT at the STEGERBRÄU
"Hops and malt – God preserve it!"
A little bit of this, a little bit of that – and we already have our own beer, brewed for us and our guests directly at the Kaltenhausen speciality brewery. What sounds so simple required a lot of planning and, of course, good taste until our #StegerbrauBeer, naturally cloudy and with a slightly sweet note, was ready. We are more than proud, that our StegerBRÄU is so well received by you. CHEERS! In addition to our freshly tapped own bees, there are of yourse other types of beer to choose from.
By the way – our Edelzwickel is also available to take away in a practical 6-pack-tray (0,33l each) with a FREE Stegerbräu glass.
For wine lovers
Fine wines are stored in the Stegerbräu wine cellar and the wine showcase in the entrance area displays the rich selection of fine wines. From Austrian wines to international wines and Stegerbräu`s own brands, connoissers will find and well-assorted selection of wines in the Stegerbräu wine list. Host Christian will be happy to advise you and is sure to find the perfect drop to accompany your meal. In winter 2021, a private wine cellar was created, which is ideally suited for small, private celebrations and wine tastings and can be rented on request.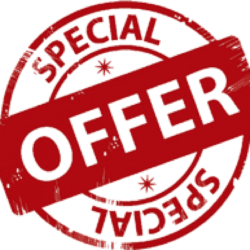 Specials at the Restaurant Stegerbräu
You can spend a special culinary evening in the Restaurant Stegerbräu, for example, with a cosy fondue dinner. Ideal for special occasions or celebrations with a small circle of friends or family and of course for epicures. On Christmas Eve our restaurant is open in the evening and we offer a special festive menu. Advent and Christmas parties with the company or private celebrations? In our locations you will find the right setting for all occasions and we are happy to fulfil individual wishes for suitable menus on pre-order.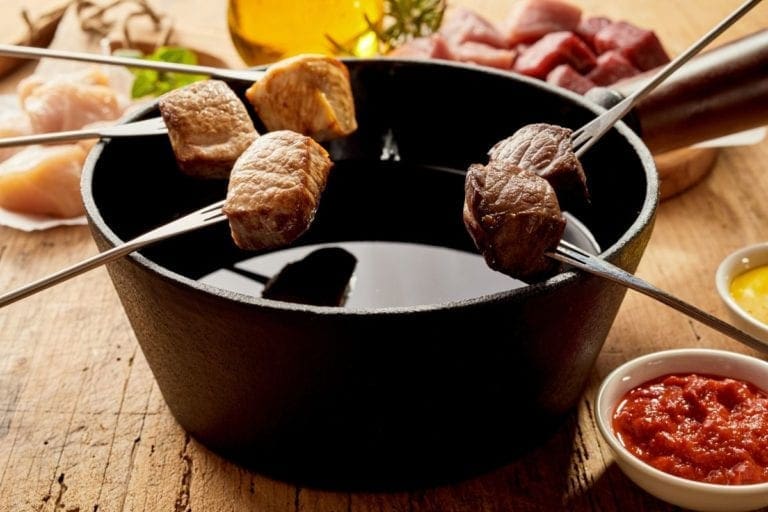 A fondue pot stands in the middle of the table.
small pieces of fillet from beef, pork and chicken are put on the skewer and left to sizzle in the soup (chinoise).
Served with:
homemade sauces
Jacked potatoe with sour cream sauce
French fries
Salad & garlic bread
Price per person: € 26,90 
This special treat is available with pre-order (the day before – at the latest) and from 2 persons.
Christmas at the Stegerbräu
Christmas Eve with festive menu
On Christmas Eve our Restaurant Stegerbräu in Radstadt is open for you from 5 p.m. On the 24th of December we will spoil you with:
a festive menu at a fixed price
Soups, salads and starters from the buffet
A main course with a choice of 2-3 dishes is served
For the sweet end there are different dessert variations from the buffet.
We also offer children`s dishes as an option for our younger guests.
A table reservation is absolutely necassary. As our kitchen closes at 8 p.m. on December 24th, reserved places must be taken by 6:30 p.m. at the latest. Afterdinner, you can of course enjoy a pleasant evening with us. Our Christmas festive menu is usually fixed 1-2 weeks in advance. We will be happy to inform you about the culinary offer and the price for the menu.
For our hotel guestes, we offer a nice social programme as part of our Christmas packages and in the Christmas package, our festive menu on December 24th is already included. We start the Christmas Eve in the traditional way:
At 5:30 p.m. we invite you to a Christmas aperitif with mulled wine on the garden terrace with fireplace.
Afterwards we invite you to the festively decorated table.
Enjoy the culinary delights of the festive menu in the Bräusaal
After the meal, Family Stiegler is going to wish you a Merry Christmas and every family will receive a small gift under the Christmas tree.
You can spend the rest of the evening in the cosy atmosphere of the Bräusaal.
During the Christmas week – between 18th and 25th of December – we also invite you to a romantic torchlight hike and to curling together with the host Christian (weather permitting).