Stegerbräu Take away Delights
 Take away food – in Radstadt
Stegerbräu's delicious cuisine at home! Whether you have a small or large appetite, we offer almost all of the dishes on our menu in the Stegerbräu restaurant in Radstadt as TAKE AWAY options.
Radstadt Take away
You don't have the time or don't feel like cooking for yourself? Do you want to enjoy the Stegerbräu cuisine within your own four walls or are you expecting visitors at short notice and you need a tasty meal quickly? We look forward to seeing our dishes and drinks going home with you.
In addition to most of the dishes on the menu, whether burgers, schnitzel, beef goulash, crispy salads, spring rolls, pasta dishes or vegetable curry, there is also the daily special as a take away option. For the popular Stegerbräu classic – our fried chicken, please allow a short lead time when ordering.
FOOD TO GO – Stegerbräu-Cuisine to enjoy at home
Ordering Take away in Radstadt  – How it works:
Select your desired dishes from the Stegerbräu menu
then call: +43 6452 4313 and order
Pick up the meal from us at the Stegerbräu restaurant in Radstadt at the agreed time
Depending on your preferences – pay in cash, with an EC card or with Visa or  Mastercard
Enjoy a traditional Stegerbräu meal at home within your own four walls
Bon Appetit!
We offer dishes from the Stegerbräu menu, burger menu or chef's recommendations on days when we are open from 11am to 2pm and 5 to 9pm. If you are hungry in between, you can choose from the afternoon menu from 2 to 5pm.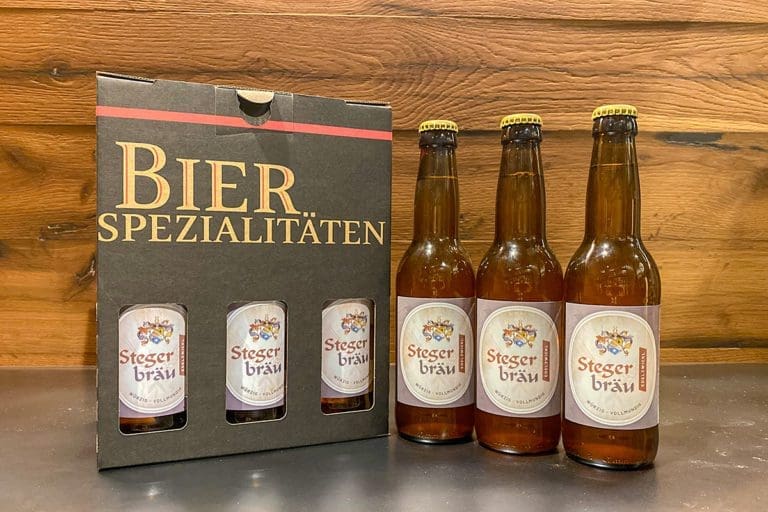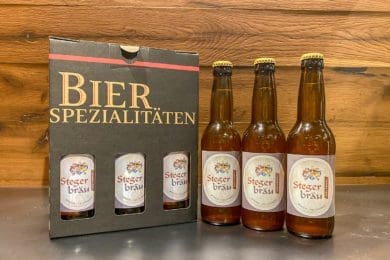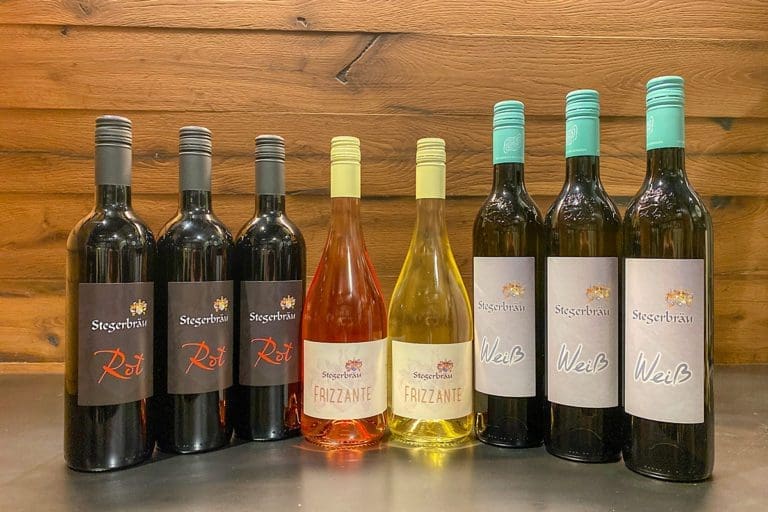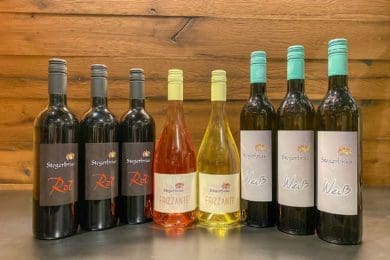 The StegerBRÄU beer is available to take away in a practical 6-bottle tray (6 0.33l bottles) for EUR 15.– and we will give you a Stegerbräu beer glass as a gift. Stegerbräu wines red or white: € 15.- per bottle and the Stegerbräu Frizzante "Muskateller" or "Rose" are available for a pick-up price of € 20.– per bottle.
FREQUENTLY ASKED QUESTIONS ABOUT OUR TAKE AWAY SERVICE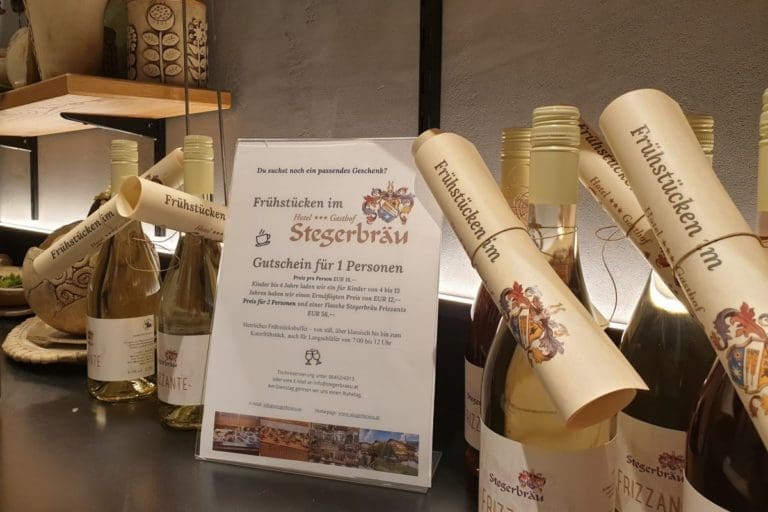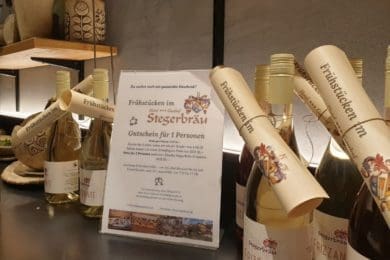 There are a wide selection of vouchers on offer and vouchers for good cuisine are never out of season.
An Indulgent Breakfast – let yourself be pampered in the morning
Chinese Fondue – for a special occasion or romantic evening
Vouchers – redeemable at any time in the restaurant
Individual voucher tailored to your needs
Or a gift basket put together according to your wishes.
Just call us or come by and pick up the voucher. Our showcase on the ground floor – near the children's playroom – also shows a selection of souvenirs, whether beer, wine, frizzante, homemade jam or schnapps. You can also order Vouchers or Hotel-holiday Vouchers online.