STONEMAN TAURISTA TOUR IN AUSTRIA
THE mountainbike adventure in Salzburgerland, Radstadt
What is the Stoneman Taurista? A fantastic mountainbike trail in the Austrian Alps and a challenging route for experienced mountain bikers that leads you through the Salzburgerland.
Mountainbike adventurers may already know the Stoneman Dolomiti in Italy, the Miriquidi in Germany or the Glaciara in Switzerland. In July 2018, the Stoneman Taurista was  opened in Austria – right here in Pongau, joining the family of ultimate mountain bike trail routes.
The impressive mountain scenery around Flachau, Wagrain-Kleinarl, Altenmarkt-Zauchensee, Radstadt, Forstau and Obertauern creates a stunning backdrop for this extraordinary mountain bike adventure and the 3 star Hotel Stegerbräu in Radstadt is the obvious partner hotel with attractive offers and rooms in Radstadt to add a touch of comfort to your Stoneman Experience!
123 kilometres | 4,500 vertical metres | 360 ° alpine panorama
This challenging bike route, created by by Roland Stauder, offers a real opportunity to experience the alpine landscape up close and personal! The trails can be ridden individually by cyclists looking for a challenge, without the stress of competitive pressure.
The tour covers 123 kilometres and has a challenging 4,500 metres of climbing. It is split into 3 evenly spaced stages with crisp climbs and challenging passages over impressive mountain peaks and fast downhill sections throughout Salzburg Sportworld, past lush alpine meadows and idyllic mountain lakes. The cosy mountain inns and huts along the route invite you to take a break, offering tasty food and drink.
In Flachau the trail heads out over the Grießenkareck ridge and down through the Wagrain bike park. In Radstadt the 1,768-metre-high Rossbrand Plateau tempts riders with its stunning 360 ° panoramic view over 150 striking alpine peaks. To the south, the Stoneman Taurista passes through the idyllic summer pastures of the Oberhütte farm. The route leads through the winter sports mecca of Obertauern via the 2,110 metre high King's pass, then back to the valley towns of the Salzburger Sportworld.
The Stoneman Taurista circuit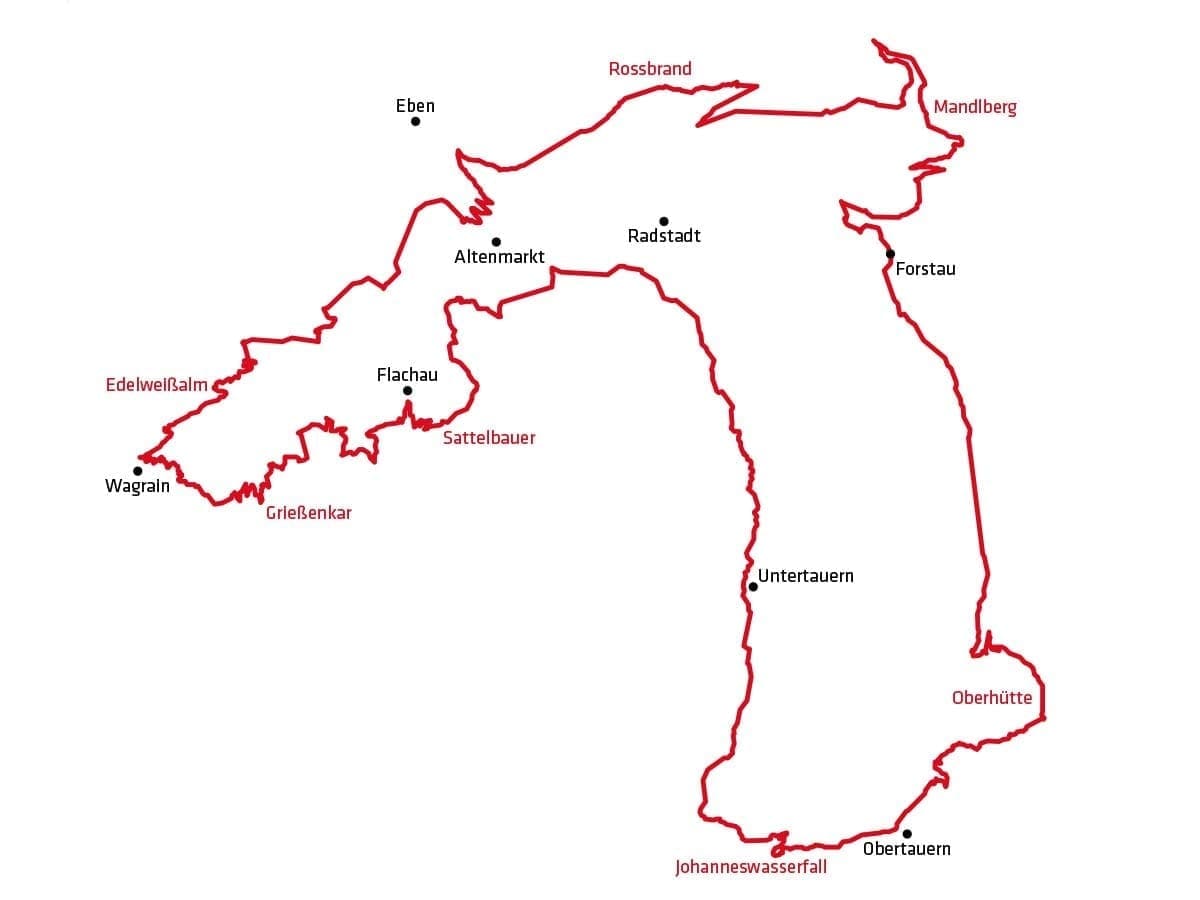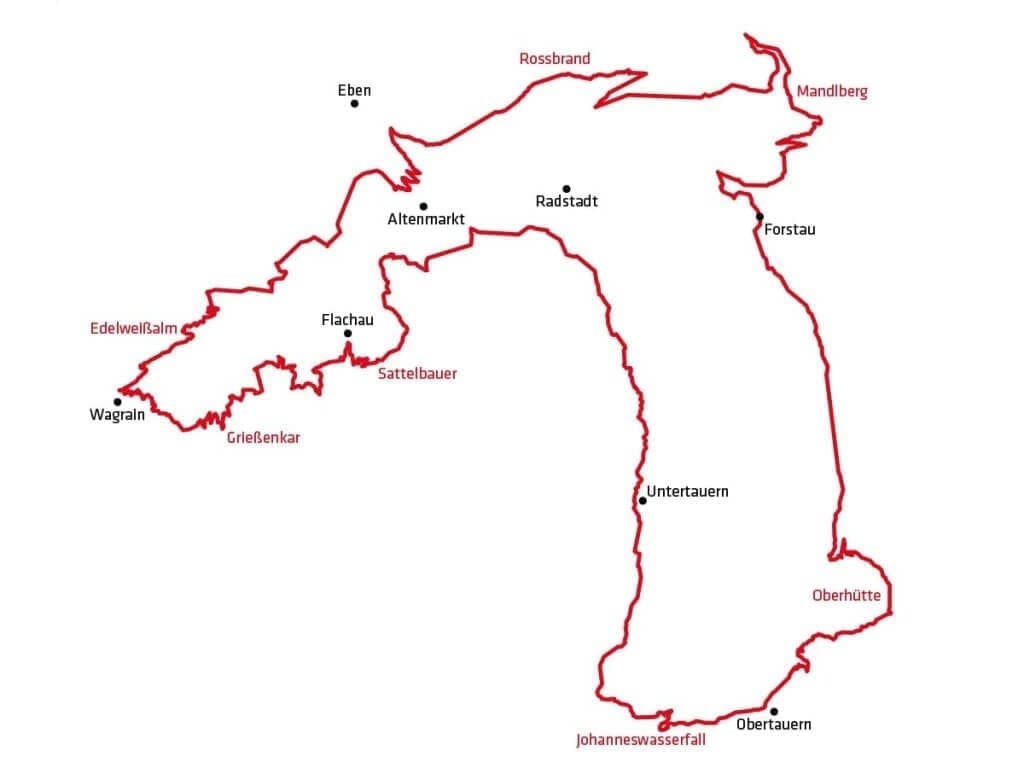 In order to win an exclusive Stoneman Trophy, the 123 km long route needs to be covered in a maximum of 3 days. If you ride the Stoneman Taurista in 1 day you will be awarded the gold trophy, 2 days for the silver or 3 days for the bronze. But there is no stress and there are no fixed dates or times. You set your own goal for the day and can ride the route as you wish, to fit in with your skill and fitness level – A Gold Tour in just 1 day, a Silver Tour in 2 days or as a Bronze Tour in 3 days.
Combine your Stoneman Taurista Challenge with a stay at the 3 star Stegerbräu Guesthouse & Hotel, located in the centre of Radstadt. We offer you rooms to a preferential price. The small, historic town is right at the heart of the Stoneman circuit and offers an ideal start and finish point for the tours.
Don't forget to pack your packed lunch from the breakfast buffet to keep you fully tanked for your mountain bike challenge.
After a sporting day, treat yourself to culinary delicacies from the Stegerbräu kitchen, whilst sitting under the heated arbour on the hotel terrace overlooking the Radstadt Tauern. Then relax in the wellness area with sauna, steam bath and infrared cabin. The Stoneman starter packs, providing you with all you need as an official Stoneman starter, are available directly at our Hotel Stegerbräu, as a Stoneman logis partner and you can register even online and order your pack before arrival.
Our special offers for accommodation and your Stoneman stay, can be found under the link below Summer Packages and Stoneman Offers and shows you all prices, regardless if you are looking for only one overnight or a longer stay. The offers are valid as well for your companions or children travelling with you.
You've already booked your room for your mountainbike challenge at Stegerbräu? Then click on the link button below and make your registration and order for your starter pack.  As registered starter you will receive up to date information before you start off and so you can be assured that everything is prepared at your arrival.
For pleasure cyclists – mountain bikers & e-bikers
Radstadt and the surrounding villages of Salzburger Sportworld, also offer an extensive cycle path network with mountain bike trails for the more casual cyclist and it is even more relaxing with electric assistance. At the Hotel Stegerbräu, we offer high-quality mountain e-bikes for rent and Stegerbräu guests can take part in 2 guided mountain bike tours and a cycling taster tour, free of charge every week. Find out more here under Cycling & Mountain biking in Radstadt. We also offer bike packages with all-inclusive services ideal for your Radstadt holiday.