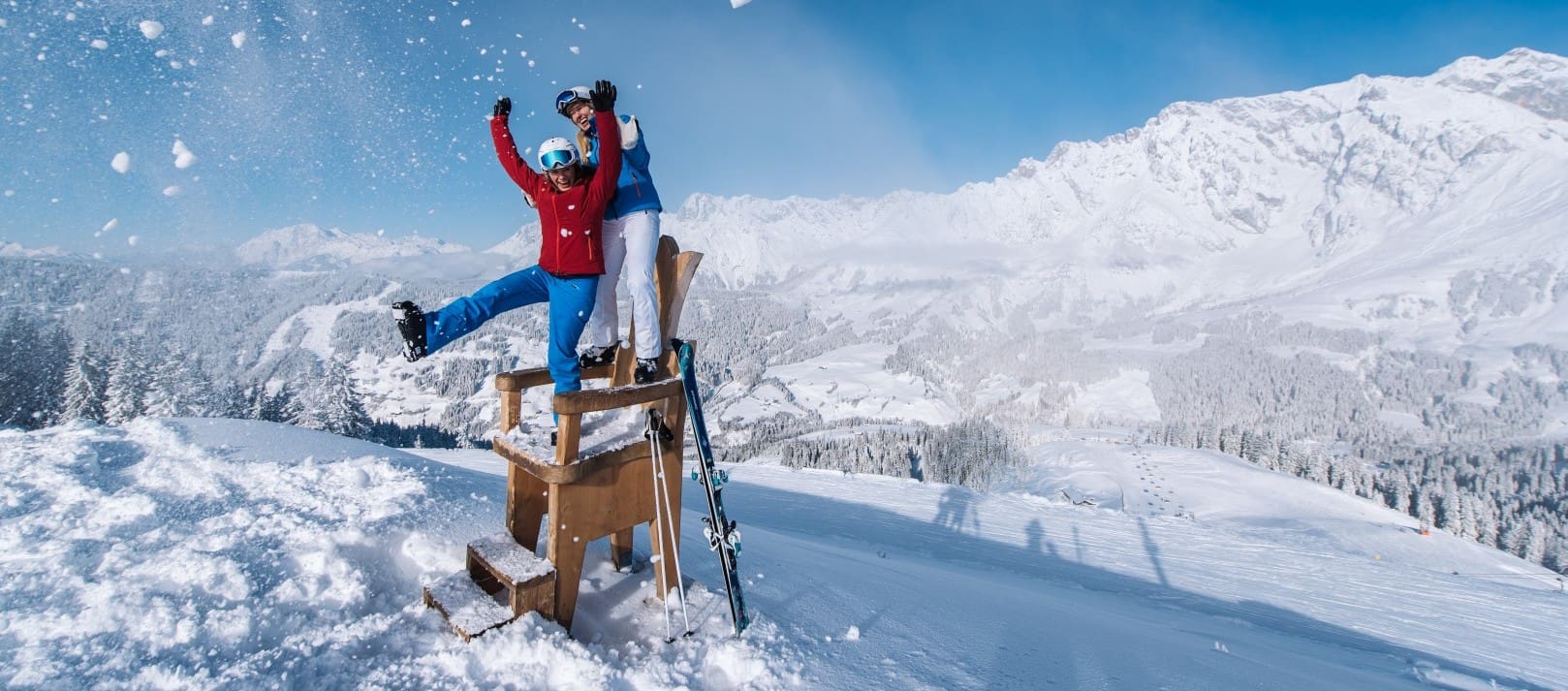 The Ladies Week will find its continuation under the motto: "bring a friend and get 1 ski-pass for free". This special deal is valid for a weekly stay from March 21 to March 28 2020
That means, when travelling with a partner / friend during the Ladies Week and when staying together in a double room, the Hotel Stegerbräu in Radstadt presents you with a free 6-day ski-pass for 1 person.
It's not just the second ski pass you'll receive for free during Ladies Week. As always, it includes an exciting programme for the ladies.
daily rich breakfast from the buffet
ski-snack daily from 4.00 to 5.00 pm
3-course dinner in buffet manner & salads from the salad bar
daily free use of wellness-area from 3.00 to 8.00 pm
bathrobe for adults, free on request
free WIFI access throughout the hotel
1 x possibility for Fondue evenening within half-board
(daily 4 families can sign in for this evening)
10% to 20% reduction for ski rental by our partners
We present you with 1 x 6-day ski-pass, valid for Ski amadé
when booking for 2 persons in a double- or family room
Within the Ladies Week, one Lady of the duo can benefit from furhter extras:
1 day free ski testing of the latest lady models for 1 lady

1 x ladies ski-guiding or ski-course for 1 lady
In the different ski-regions are exciting programmes waiting for the ladies.
Ladies Week Package-Price
including half-board & your special extras
Price per week for 2 persons in room:
Bräu-Double-Room:  € 1.194,50
Bräu-Room for 2-4 persons: € 1.222,50
The price indicated is always the DUO-PRICE
Changes and errors excepted!
When travelling as "Family" that means:
1 x 6-day ski-pass for one parent free of charge,
and for own kids until 15 years as well free ski-pass within the Easter Family Promotion
Children packages on request!
further price information
Prices valid for 7 nights for two persons as couple, within the defined period
The offer is only valid for adults and can not be used in single rooms
The more-bed rooms (triple- or 4-bed rooms) are only given if travelling kids with you or if available
The tourist tax is not included in the mentioned prices and has to be paid extra: € 1,30 per person and day, from the age of 15 years.
 Rooms with balcony are available on request (subject to availability) and at a surcharge of € 5, – per day
GTCs
The Lady Package Price is valid for adults born 2000 or before. The free ski-pass for 1 person is only given when booking as duo in a double room and for a stay of 7 nights from 21.03. to 28.03.2020.
The Easter Family Promotion with free ski-pass for own kids of a family is valid for a 7 night stay from March 14 until end of winter season.  That means free ski-pass for your kids born 2004 or later, when at least 1 parent purchases a 6-day ski-pass. Proof of family requested.
The 3 star Hotel Stegerbräu in Radstadt and Ski amadé offers still more packages from March 14 to end of winter-season. Just read more about under March / April – Ski Amadé Finale.
You have already found your favourite package – then just send us your request or look for further packages in the overview.